Help us stock the items you need
If there is something you require that is not on our site, simply give us a call on 01424 220384 or send us a message via our contact form and we'll do our best to get it added to our online electrical wholesale store.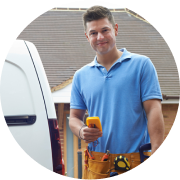 Illuminate your space with our range of security floodlights. With a light bright enough to light up large outdoors areas, floodlights will improve your safety and visibility by deterring intruders. Our security spotlights are ideal for lighting up a specific area, helping you keep an eye on susceptible and exposed areas like entrance points, walkways, and gates in both domestic and commercial spaces, making them perfect for both homeowners and business owners.
Motion Sensors and PIR Floodlights
PIR and sensor based floodlights are a popular choice because they use less energy, due to the fact they only turn on when motion is detected in a specific area. PIR stands for Passive Infrared and detects changes in heat radiation, and motion sensors detect movement. These types of security lights are often used as a preventative measure, to deter potential intrudors, and are useful in both houses or businesses. This will help homeowners or business owners feel more safe and secure, especially in the darker winter evenings. At Electrical2Go, we offer a great range of affordable PIR and motion sensor security floodlights, from a variety of the best brands on the market. Why not take a look at a look at our PIR floodlights now?
Colour Temperature & Brightness
We offer a wide range of floodlights varying in different colour temperatures, so what does each one mean?
Warm white varies between 2700K – 3000K, and gives off a warmer glow and is popular in more relaxed areas.
Cool white is usually 4000K – 5000K and emits a cooler white and gives off a brighter feel. This is the most popular colour for security floodlights due to it being brighter and is most common to illuminate entry points and areas of vulnerability.
Daylight is anywhere between 5000K – 6500K and is a very cool white containing blue tones. This is a common colour for floodlights due to its bright nature and is most common to illuminate entry points and areas of vulnerability.
For more information, why not visit our colour temperature guide here: Warm White vs Cool White: Which Should You Choose? | Electrical2Go.
Floodlights come in a variety of brightness outputs, and it is important to choose the correct one for the space you wish to illuminate. An outdoor security floodlight with a low lumen output (700- 1500lm) will be ideal for patios and driveways. Commercial spaces, such as car parks and other outdoor areas will need much more. For small gardens, you can get away with anything around 2000lm, whilst a larger garden may need 8000lm, whilst a car park will need anything between 16,000lm and 20,000lm
FAQs
Do floodlights use a lot of electricity?
The amount of electricity used by floodlights depends on the wattage of the bulbs and how long the floodlights are in use. Floodlights can range in wattage from as low as 50 watts to as high as 1000 watts or more. To get an idea of how much electricity your floodlights are using, you can use this formula: Wattage x Hours Used ÷ 1000 = Kilowatt-hours (kWh). Keep in mind that this is just a rough estimate and actual electricity usage may vary based on factors such as the age and efficiency of the floodlight and the local climate.
How many security lights do you need?
The number of security lights you need will depend on the size and layout of your property, as well as your personal security needs. Some factors to consider when determining the number of security lights you need include the size of area you wish to illuminate. You will need more floodlights to cover a larger area. You will also need to think about the amount of ambient light already present. Streetlights can offer a large amount of light, therefore reducing the amount of security floodlight you'll need. Finally, consider the amount of security you want. More floodlights in vulnerable areas will heighten your safety, but be sure to think strategically where to install them.
What is the law on security lights?
There are generally no specific laws that regulate the use of security lights, but there are a few things you should keep in mind to ensure that your security lights are in compliance with local ordinances and regulations:
Obstructions: Some local ordinances may prohibit security lights that cause a glare or other obstruction that could interfere with the vision of drivers or pedestrians.
Height: Depending on your location, there may be restrictions on the height at which you can install security lights.
Brightness: Some local ordinances may limit the brightness of security lights to prevent light pollution and preserve the natural darkness of the night sky.
It's a good idea to check with your local government to see if there are any specific regulations that apply to the installation and use of security lights in your area.
How many lumens for an outdoor security light?
The number of lumens you need for an outdoor security light will depend on the size of the area you want to illuminate and the level of visibility you want to achieve. As a general rule of thumb, you'll need more lumens for a larger area or for greater visibility.
Here are some rough guidelines for the number of lumens you may need for different types of outdoor security lights:
Small areas (up to 150 sq ft): 400-800 lumens
Medium areas (150-300 sq ft): 800-1,200 lumens
Large areas (300-450 sq ft): 1,200-1,600 lumens
Browse all Next Day Delivery security lighting.
If you have any questions about choosing the right security light, please call our team on 01424 220384 and they'll gladly talk through the options with you. There's never been a better time to invest in the security of your home or business with our floodlights. Stock up today and benefit from free delivery on orders totalling more than £100.