Everything you need to know about electric car chargers
We know that the world of electric car chargers can be daunting, with lots of different information out there to read and digest. Regardless of whether you're fitting an electric vehicle charger in a residential or commercial setting, you'll need to know things like which type of EV charger is best for your installation, whether or not to choose a tethered or untethered charger, how much power an EV charger draws, the type of cabling needed, what government grants you can get, and much more.
Our customers often need advice and guidance on their electric car charger installation, so we explore most frequently asked questions below.
Which home EV charger should you choose?
Home electric car chargers fall into 2 categories; Trickle chargers and AC chargers.
A trickle charger plugs into the mains supply using a standard, 220v 3-pin plug on one end. A trickle charger can deliver anywhere between 8-10 miles of range to the battery per hour. They are not overly practical unless you only drive short distances every day, or top-up every night as it can take anywhere from 12 - 24 hours to fully charge a battery pack.
AC chargers (sometimes known as Wallboxes) are a much better option for most EV owners and are often installed in homes, offices, and other commercial settings. These electric car chargers have power outputs of 3.7kW or 7kW. The latter will charge most EVs from empty to full range in around 8-10 hours.
Commercial settings with a 3-phase power supply can also install 22kW electric car chargers with even quicker charge times, these are known as DC chargers.
What is an EV fast charger?
An EV fast charger is an electric car charger that can charge your car's battery from empty to nearly full in around 40 minutes. These EV charging solutions are in public places (such as motorway service stations or dealerships) and using DC, deliver anywhere from 50kW to 200kW of power. Due to their very high installation cost and power consumption, they are not economical for homes or most workplaces.
How much does an electric car charger cost?
Home or workplace electric car chargers can vary in price but they typically start at around £400 to £500 and can go up to £4000 depending on power output and features etc.
If you only use public and paid chargepoints, you could save in the region of £1000 over a year with a home chargepoint. Despite the initial costs, they often pay for themselves quite quickly.
Don't forget, the government OLEV grant can save you £350 off the cost of a charger and/or installation. For more information, read our Guide to the OLEV EV Grant.
Are electric car chargers standardised?
We often get asked if all electric car chargers are the same and the answer is no. AC Electric car chargers, like those we sell, come in two distinct types; Type 1 and Type 2:
Power Ratings
Features
Most common fitting for new EVs
Considered the standard for the European market
7 pin design
Can work with 3-phase power
Has locking mechanism
Can work with Tesla Superchargers
---
Power Ratings
Features
Standard US & Asia connector
5 pin design
No locking mechanism
More common on older EVs
What is a tethered electric car charger?
The other big distinction between EV chargers is whether they're tethered or untethered. A tethered electric car charger has an integrated charging cable. In simple terms, that means the cable is permanently attached to the wallbox.
An untethered electric car charger has a socket in which you plug the charging cable into, much like a camping socket. At Electrical2Go, we stock both types of EV charger to suit your needs.
Should I choose a tethered or untethered EV charger?
ethered and untethered electric vehicle chargers each have their pros and cons.
Pros of tethered chargers
Tethered electric chargers allow you to simply park up and plug in
You can keep your other charging cable in the boot of your car
More secure than an untethered unit
You don't need to buy an additional cable
Cons of tethered chargers
Cables often come in fixed lengths, so you can't buy a replacement if needed
They lock you into the Type 1/Type 2 choice. If you change car, or even if a new cable standard emerges, you'll need to buy a new charger or an adapter
They aren't as 'neat'. The cables are permanently on display and you'll have to coil/uncoil every time you use it.
Pros of untethered chargers
You can buy multiple cables of different lengths
Much more flexible and future-proofed, you are not as locked into the Type 1/Type 2 choice, either type can use the socket
As EVs become more popular, visiting friends and family can also use the charger
Looks a lot more discreet and tidy on your driveway or car park.
Cons of untethered chargers
You have to get the cable out of your boot/garage every time you want to charge
Less secure than a tethered unit
You may have to supply your own charging cable
What is a smart EV charger?
A smart EV charger is one that shares data between the charger, the car, and you. This is typically done via an app or web service. A smart EV charger allows you to control the charging process by doing things like:
Setting charging times for low-demand (and therefore lower cost and often greener) periods
Managing charge levels of your car
Monitoring how much energy and money you've spent over a given period
Ensure your charger receives regular software or firmware updates for the latest features
Integrating with other smart home products or home green energy solutions such as solar panels or wind turbines
Offering remote diagnostics and resolution
How much does it cost to install an electric car charger?
Electric car chargers need to be installed by a professional electrician or an OLEV approved installer, and there are associated costs with this. A professional installer will be able to tell you whether you need permission to install your EV charger, whether your home or commercial property is safe, and where is best to place the EV charging unit itself.
Everybody's circumstances and installation requirements are different so we can't put a definitive cost on this. However, if you're unsure, don't hesitate to contact our friendly sales team.
Is it safe to install an electric car charger at my home or business property?
Your electrician will be able to determine whether your existing wiring and electrical supply will be able to handle the power delivered to the EV charger. Your installer will also have to inform the District Network Operator that a charging unit is being installed in the area.
Do I need permission to install an electric car charger?
Generally, you don't need permission to install an electric car charger at home or in a workplace. However, you will need to get permission if any of the following apply:
If the charger is near a highway
The charger is more than 1.6m high
If it is over 0.2 cubic meters
If it is being installed on or in a listed building
In rented private or commercial property, you may also need permission from your landlord.
Where can I install an electric vehicle charger?
EV chargers are weatherproof so people typically install them on their sides of their homes by the driveway, or inside a garage. Given that most EV charging cables are between 5 and 10m long, you need to consider where you park most regularly.
To qualify for an OLEV grant, you need to have off-street parking.
What is the OLEV or Plug-in grant?
The OLEV grant, or the Electric Vehicle Homecharge Scheme (EVHS) to give it its full name, is a government EV charger grant worth up to £350 to be used against the purchase and installation of a home electric car charger. You can claim the grant for one charger per eligible vehicle, old or new, up to two vehicles per household.
To qualify for the OLEV grant you must:
Have off-street parking
Install an OLEV-approved chargepoint
Use an OLEV-approved installer
For more information, read our Guide to the OLEV EV Grant.
If you're planning to install an EV Charger at a place of business, the Workplace Charging Scheme (WCS) is also available.
What is the Workplace Charging Scheme?
Like the EVHS, the Workplace Charging Scheme (WCS) is a grant that a business can use against the cost of installing electric car chargers at a place of business, for use by their staff or fleet cars, by up to £14,000.Businesses, charities, or public authorities can claim up to £350 per chargepoint socket, up to a limit of 40 sockets. To qualify for the WCS, you need to have sufficient off-street parking and have the chargepoints installed by an OLEV-approved installer. You're not currently required to have EVs as part of your fleet, but you do need to demonstrate an existing or future need for the business. You also can't retroactively claim for any chargepoints previously installed.For more information, read our Guide to the OLEV EV Charger Grant.
What is OLEV?
OLEV stands for the Office for Low Emission Vehicles which is part of the UK Government's Department for Transport. They work across the government to support the introduction and building of infrastructure of Ultra Low Emission Vehicles (ULEV).
Where can I charge my electric car on the road?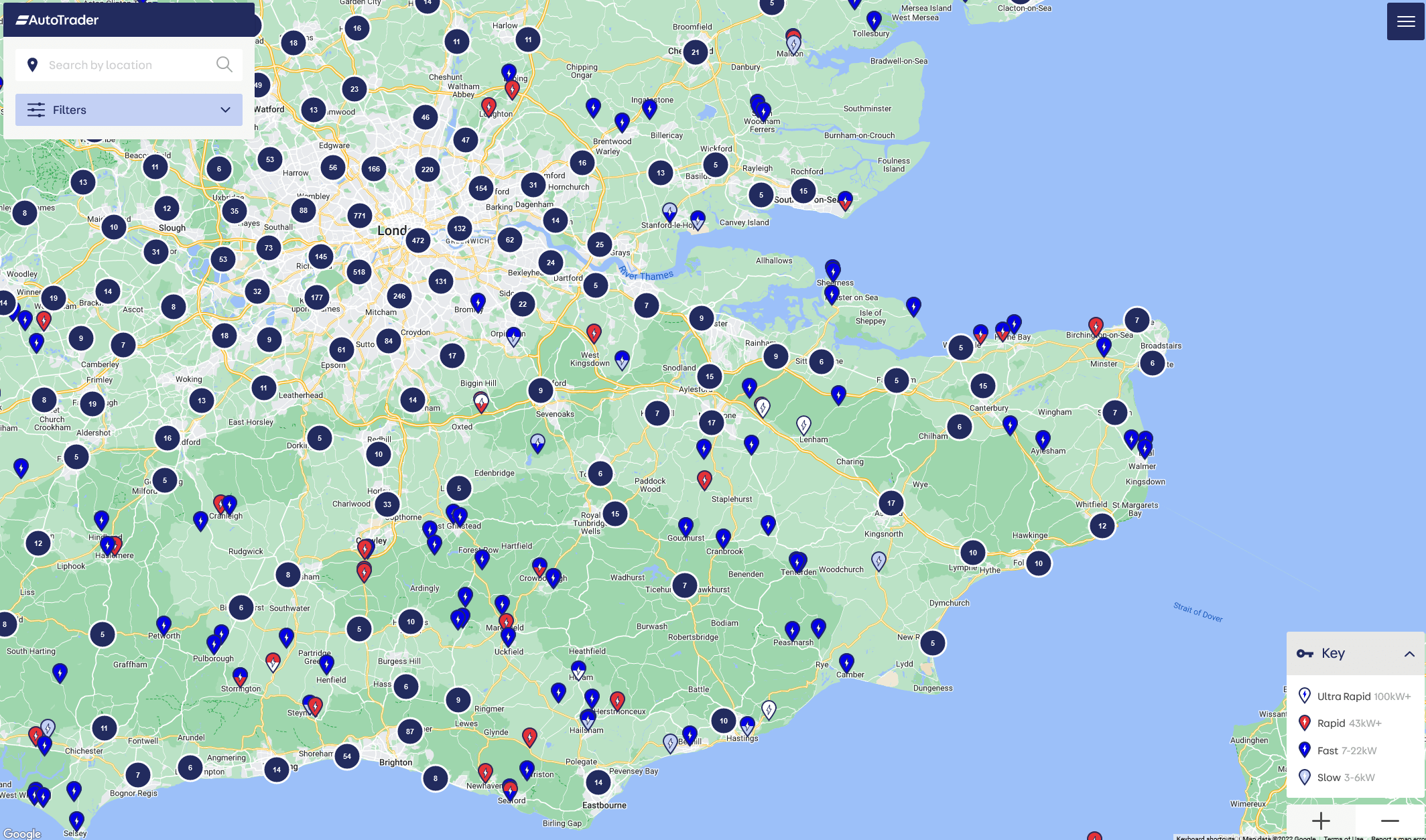 ---
Browse today's most popular EV products