Help us stock the items you need
If there is something you require that is not on our site, simply give us a call on 01424 220384 or send us a message via our contact form and we'll do our best to get it added to our online electrical wholesale store.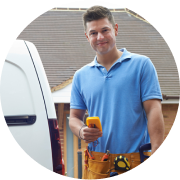 Explore our range of commercial and industrial bulkhead lights suitable for a range of installations both indoor and outdoor. Bulkhead lights are used to light up areas such as walkways, steps, entrances and yards.
We stock a huge range of indoor and outdoor bulkhead lights from major manufacturers including Ansell, Robus, Knightsbridge, JCC, Aurora, British Electric Lamps and many more. Outdoor bulkhead lights are bright and due to their robust build, can handle the worst of the weather. External or exterior bulkhead lights and fittings come in a huge range of styles including round, square and rectangular as well as with or without PIR sensors. We stock plastic and metal bulkhead lights.
Modern LED bulkhead lights offer a great blend of bright, reliable light with lower power consumption and IP65 ratings. It's not just for industrial settings though, outdoor bulkhead lights can be a great choice for a home garden with ornate designs and excellent performance.
If you can't find the bulkhead light you need, don't hesitate to contact us with more information. Our dedicated sales team are available on 01424 220384, and we'll be happy to help.