Help us stock the items you need
If there is something you require that is not on our site, simply give us a call on 01424 220384 or send us a message via our contact form and we'll do our best to get it added to our online electrical wholesale store.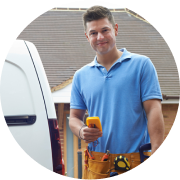 A rotary isolator (or rotary switch) is, quite simply, operated by rotation. It's often found in a system where two or more positions are needed, such as in a standard three-speed fan.
We're proud to stock a range of three-pole and four-pole rotary isolators in a variety of sizes to suit all projects, and we keep a constant eye on the market to make sure we're bringing these to you at the lowest possible prices. Plus you can filter the product results by costs to help ensure your electrical project stays on budget, plus spend more than £100 and we'll ship your entire order to you free of charge. Scroll or use the filters to browse our range of rotary isolators from market leaders Timeguard and ESR If you have any questions about which rotary isolator is right for the project at hand, we're always happy to help. Call our friendly team on 01424 220384 and the team will help you make the right decision. With our superb customer service, free delivery* and one of the largest ranges of electrical products available on today's market, it's always best to shop with Electrical2go