Help us stock the items you need
If there is something you require that is not on our site, simply give us a call on 01424 220384 or send us a message via our contact form and we'll do our best to get it added to our online electrical wholesale store.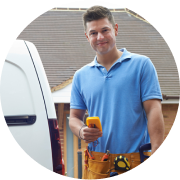 Bring your garden to life when the sun goes down with our versatile range of garden spike lights and spotlights.
Transform your garden or other outdoor space with our range of garden spike lights and outdoor spotlights. Whether used to illuminate paths, plan beds, walls or buildings, a set of stylish garden lighting spikes can take your outdoor space from good to great. Choose from halogen spotlights, waterproof LED spotlights, LED projectors, triple spike spotlight packs and adjustable LED spotlights, all at our famously competitive prices.
Garden Spike Lights
Garden spike lights, also known as outdoor spotlights, are a great way to add ambience and illumination to any outdoor space. Typically designed with a pointed spike, so they may be inserted into the ground; ideal for lighting up paths, walkways, shrubs, trees and accentuating any outdoor feature. Most spike lights and outdoor spotlights use LEDs to provide bright and energy efficient lighting. There are also GU10 lights to allow you to customise the colour and brightness. All garden spike lights/outdoor spotlights will have an IP (Ingress Protection) rating, which means how resistant to dust and moisture they are. For example, an IP65 rated spike light/spotlight will be perfect for outdoor spaces; the "6" represents the dust (foreign bodies) rating whereas the "5" represents the moisture protection rating, usually the higher the numbers the better. Harsher conditions will require higher IP ratings such as IP68, but in calmer conditions IP45 should suffice. Overall outdoor spike lights are an excellent choice for any homeowner wanting a quick installation, durable, versatile way of lighting up their outdoor spaces.
Halogen and LED spike lighting offer different benefits, with halogen providing a warmer light and LED being more energy efficient. Spike lighting can also come in projector form, allowing for more focused lighting. Some spike lighting is adjustable and colour-changing, allowing you to create the perfect ambiance for your outdoor space.
Mains Powered
Mains powered spike lighting is a popular and reliable option for outdoor lighting, as it provides a consistent and powerful source of electricity. These lights are typically connected to a power outlet using a cable, which can limit their placement to areas near power sources.
Solar Powered
Solar-powered spike lighting, on the other hand, utilizes solar panels to collect and store energy from the sun during the day. This stored energy is then used to power the lights at night, making them a more energy-efficient and environmentally friendly option. Solar spike lighting can be placed in any location that receives adequate sunlight and does not require any additional wiring. Long term, a solar powered light can save you money.
Battery Powered
Battery-powered spike lighting is a portable and flexible option, as it can be placed in any location without the need for a power source. These lights are typically powered by rechargeable batteries, which can be charged through a power outlet or USB connection. Battery-powered spike lighting is a great option for temporary lighting needs or areas where wiring is not practical. This will require maintaining unlike a mains powered or solar light.
FAQS
How to install garden spike lights?
Depending on the type of spike light you have purchased (solar, battery, mains) this may vary, but here are steps to follow: choose a location for the light, be sure to prepare the ground and be wary of obstacles and debris, insert the spike light/outdoor spotlight into the ground (a wet ground will help) and ensure it is secured properly then test the lights are providing the illumination you need. Depending on the type of power source you have chosen, you may need to cover up wires, this is usually done with soil or mulch – be sure to remember where these are in the future when maintaining your garden!
Do I need any adaptors or special wiring accessories for outdoor spike lights?
For a mains powered spike light you may need a waterproof junction box and waterproof connectors (with high IP ratings). Other power sources such as solar and batteries will need to be able to withstand exposure to the elements. If unsure, follow the manufacturer's instructions carefully and use any recommended products for peace of mind.
Are outdoor spike lights waterproof?
Outdoor spike lights are designed to be waterproof to some degree. The extent of which a light is waterproof will depend on the IP rating it has. For example, a garden spike light with an IP65 rating is protected against dust and water jets, while a light with an IP67 rating is protected against dust and water immersion up to 1 meter. When buying any outdoor lighting, be sure to check their IP rating and that they're suitable for the specific outdoor environment you have in mind. This in turn will ensure they are durable, long-lasting, and reliable.
How bright are garden spike lights?
The brightness of garden spike lights can also be influenced by factors such as the angle of the light beam, the height of the spike, and the type of lens or diffuser used. Some spike lights come with adjustable heads or lenses, which allow you to control the direction and spread of the light to suit your needs. Most garden spike lights use LED bulbs, which are known for their energy efficiency and brightness. The brightness of LED bulbs is typically measured in lumens, with higher lumens indicating brighter light output. For example, a typical 3-watt LED bulb used in garden spike lights can produce around 200-300 lumens of brightness, while a 10-watt LED bulb can produce up to 1000 lumens or more. It is important to consider the level of brightness you need for your outdoor space.
Browse all Garden Spike Lights here
If you're not sure about quantities, sizes or have any other questions, our sales team will be more than happy to help. Perhaps you're not sure what bollard lights to use in your garden? Maybe you're wondering what to choose between, higher brightness or a cosier lower brightness level? Give them a call now on 01424 220384.