LED Downlights and Spotlights by JCC
Established in 1989, JCC are the market leaders in the development of cutting edge LED lighting technology. They offer innovative LED lighting solutions for domestic, commercial and industrial applications.
Here at Electrical2Go, we offer a wide range of JCC Downlights and Spotlights. Need help choosing quantities, sizes or any other questions? Call our sales team on 01424 220384 and we'll be happy to help.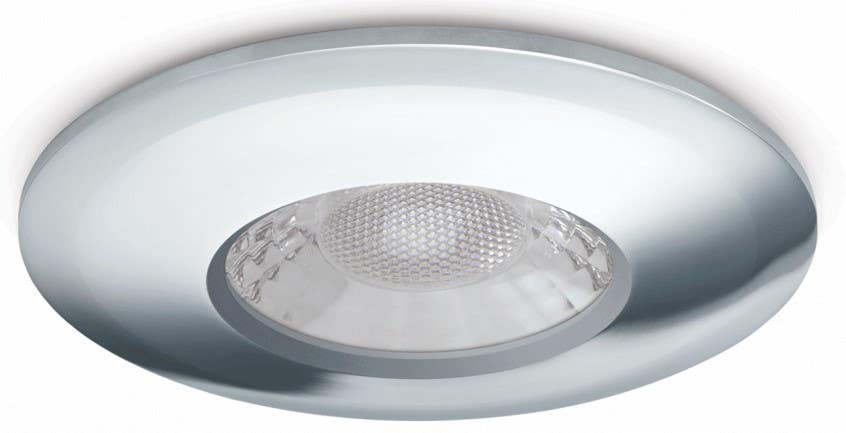 Here at Electrical2Go, we stock fire rated and non fire rated JCC LED downlight ranges including the Fireguard Next Generation, JCC HiSpot and one of our most popular downlights the Colour Selectable JCC V50 LED downlights, each in a range of finishes.
Explore different ranges from JCC
FireGuard® Next Generation
The Fireguard Next Generation has been designed by electrictians for electrictians. Guaranteeing that all aspects of the installation process, from termination to ceiling entry were considered to ensure a stress free installation for contractors.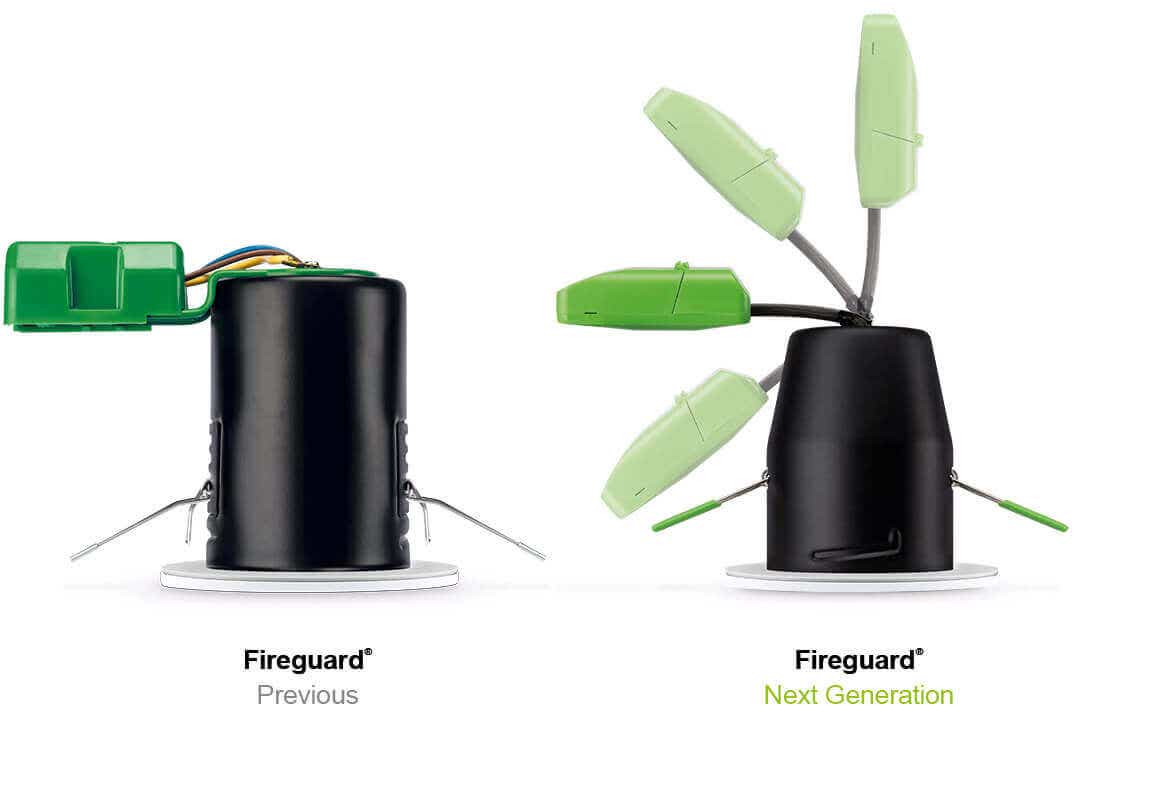 ---
Intelligent installation design
Reviewing the channel and gaining valuable contractor feedback has become an essential requirement in providing strategic direction for JCC product development. The feedback gathered for Fireguard® Next Generation gave clear direction to improve all aspects of the installation process. Select the numbers below to see some of the improvements..
Flexible terminal, not fixed to can
The terminal block on our Fireguard® range usually sits on top of the can. The Fireguard® Next Generation now has the terminal block on a flex which is detached from the can. This makes for a much simpler termination and ceiling entry, also when installed with insulation, there is no pressure placed on the terminal block as it now sits within the void, beside the can.
Key Features of the Next Generation
The white bezel option is now Brilliant White, to match the most popular ceiling paint colour.

Ultra strong spring clips have been added to ensure a secure fitting into the ceiling and no damage when removed.

The loop-in/loop-out terminal on Fireguard® Next Generation has a 180° hinge to allow extra space when wiring.

The terminal block is on a flex which is detached from the can making termination and ceiling entry simple.

Shop the range of JCC adjustable downlights here at Electrical2Go. We stock a choice of 4000K or colour selectable, with accessories such as emergency packs and coloured bezels to go with your downlight
---
JCC Toughbay
High Performance industrial lighting
The Toughbay range provides a durable and efficient direct replacement for the equivalent HID metal halide that industrial applications have become accustomed to. Available in 5700K with 1-10V dimmable and non-dimmable variants. Toughbay is a complete solution for industrial lighting.
Emergency versions
IK10 Rating
IP65 Rated
1m & 2m flex cable
Made for the toughest environments
Toughbay has been designed and engineered for ultimate durability. With IK10 protection against impact it is relentlessly hard wearing. The range is entirely IP65 protected against dust and moisture ensuring Toughbay is suitable for the harshest environments.
IP65 Rated - against dust, moisture and environmental containmants
IK10 rated for maximum impact resistance
Driver suitable for extreme operative temperatures, from -30°C up to +45°C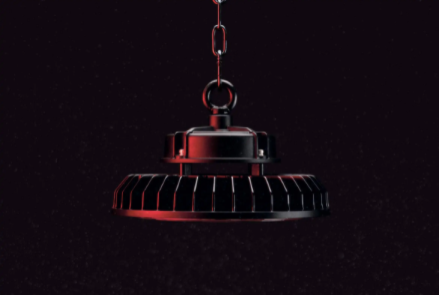 Multiple beam angle options
Toughbay Retrofit is available in 60°, 90° and 120° beam angle options, ensuring suitability for a wider variety of applications, whether it be racking, aisles or open plan areas.
Typically you would use a more shallow 60° beam angle for higher mounting areas, creating a more direct output ensuring the ground below is illuminated to a sufficient level. Racking may require a wider beam angle to ensure the light spread covers the necessary areas.
To ensure you receive the most out of the Toughbay range please contact your local JCC representative for a free bespoke lighting scheme.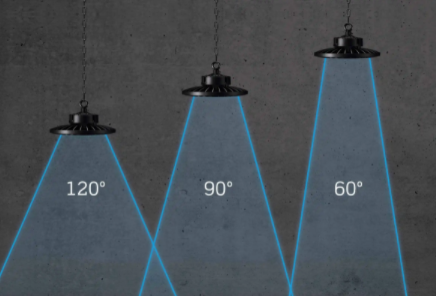 ---
JCC Commercial Lighting
'High performance and low maintenance'
JCC combine high performance and low maintenance into their vast array of commercial lighting solutions. Whether it's the skytile LED panels, the Starspot spotlights, the RadiaLED bulkhead lighting or one of their ranges of commercial LED downlights you can be sure of quality when purchasing JCC commercial lighting products.
A – Meeting & boardroom – The main lighting should be focused on the table areas. Remember to allow control of lighting near screens and displays. Use accent lighting to provide depth, and consider lighting pictures and other features.
Products: Skytile Linear, Skytile Surface, Oxford
B – Office area – Try to allow for flexible use of the space so that desks can be repositioned. The lighting on desks should be greater than general movement areas. Consider the opportunity to use natural daylight, this may require lighting control for daylight harvesting. Adequately light emergency escape routes
Products: Skytile, Skytile Sense Daylight Harvesting
C – Reception – The reception area can provide a first impression of the business. The ambient and accent lighting should be varied to provide a dynamic feel.
Products: Coral LED, Skydisc
D – Stairwell – Primarily focus on safety by ensuring good light levels. Also consider the emergency requirements for emergency escape.
Products: Radialed, IP65 Exit Bulkhead

E – Basement – Natural light and external views are unavailable and therefore it's vital to create depth of design by mixing accent and ambient light with variations in colour temperature.
F – Showroom – The primary focus should be on the products being displayed. Track lighting can provide flexibility for changes of use. Good CRI is important to ensure that colours are displayed correctly, LED lighting can have good and consistent CRI. Also consider the reliability of the lighting, a long L70 is important or the products will become dimly lit over time as product performance deteriorates.
G – Exterior– Consider the security requirements and the safe passage of people when entering and leaving the building. Good exterior lighting can dramatically change the look of a building so consider both lighting the area around the building and the elevations of the entrance area and side walls
Products: Toughflood, NiteLED.
---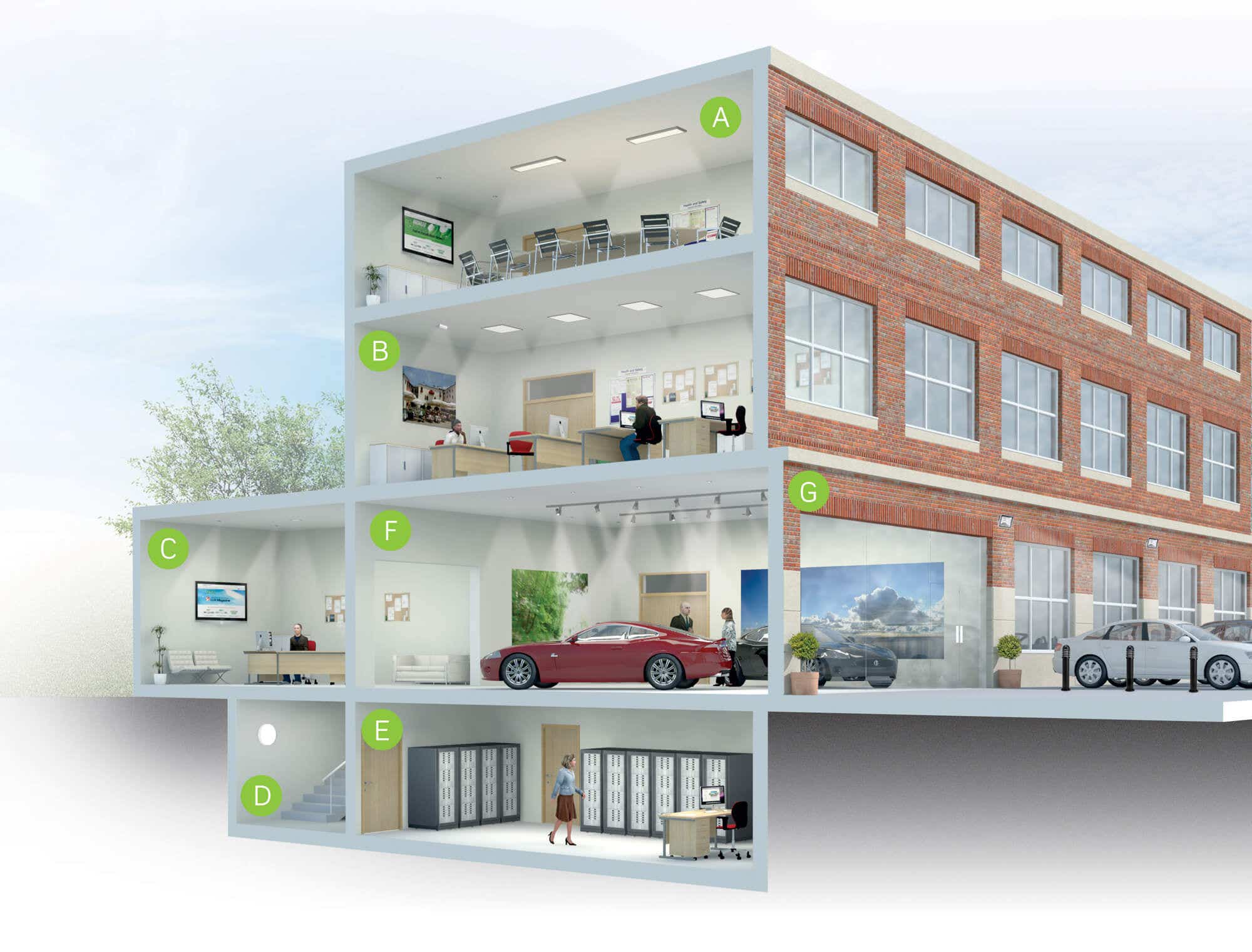 Stylish exterior lighting solutions
As well as downlights, JCC are also known for the stylish exterior lighting solutions. JCC's range of super low energy modern styled LED exterior lighting includes wall mounted lights, bollard lights and post lights. We also stock their range of LED floodlights.