Service Updates: Open Monday - Friday 8:30am - 5.00pm - Click for further details 
Runpotec RUN10136 Profi Cable Roller XB 500
Product Code:
RUN10136
RUN10136
Colour / Finish:
Not Assigned
Estimated Delivery Time:
3 to 5 Days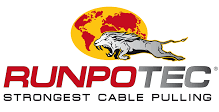 KEY FEATURES
Additional Information
A universal, professional device for winding in/out cable drums featuring all types of cables and pipes (single Core lines, cable rings, cable drums, empty conduits, ropes and rope drums)
Can bear loads of up to 800kg and is suitable for almost all types of drum.
Especially ideal for damaged cable drums.
The muscle power you use will be optimally converted into performance using the revolutionary RUNPOGLIDER (special glider) with swivel. The perfect mixture of shape, stability and flexibility (based on the conical shape) now enables you to have even more penetrating power!
1 SWIVEL The integrated swivel, allows the cable to turn in the pipe and reducing wear an tear and gives the cable pulling system and the cable an extended service lifetime.
2 HIGHEST-POSSIBLE BREAKAGE PROTECTION Numerous stable safety reinforcements in the connection between the spiral strand and the RUNPOGLIDER guarantee the highest possible
breaking load (Ø 6 mm > 200 kg / Ø 7 mm > 300 kg) for RUNPOGLIDER spirals.
3 NO HEAD CHANGING The universal special eyelet head is not only shaped optimally for pushing in the RUNPOGLIDER spirals or the POWER REX, it is also made for pulling in the cable at the same time. Therefore it is not necessary to change the head!
4 MORE CABLE TAKE-UP The extra-large eyelet in the special eyelet head can take up more cable than other spirals. This enables you to save valuable time!
Order today at our great prices, and enjoy our superb customer service!
If you're not sure about quantities, sizes or have any other questions about your electrical wholesale products, our Electrical2Go sales team will be more than happy to help. Give them a call now on 01424 220384.